Our Services
Electricians in Buxton - Our Services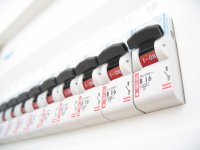 Electrician in Bakewell
For testing and inspection in Buxton and alarms in Buxton and beyond, you can't get better than right here at Roger Whitaker Electrical.

Based in Buxton, I cover the surrounding area including Macclesfield, Leek and Bakewell; and whether you are a member of the general public, a commercial business or an industrial operation that requires a professional electrician in Leek - my services are second to none.
Services in which I excel include:
Rewires (part and full)
Security systems
Emergency lighting
Smoke alarms
Consumer units
Internal and external power and lighting
Testing and inspection
And more. For a full listing of what I can offer you, please do not hesitate to call me.
Contact Me
For more information, please call me on 07828 156120 or email me at rogerwhitaker@btopenworld.com, or by using the online query form. I look forward to hearing from you!