Home
Electricians in Buxton - Roger Whitaker Electrical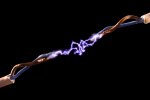 Welcome to My Website
Are you looking for an electrician in Macclesfield or rewires in Buxton? Then I would like to offer my services to you.

My name is Roger Whitaker, and I have been providing the Buxton area with my exceptional electrical services for many years.

Experience
I have the experience and expertise to offer a wide range of top quality services to all customers. I am well known for honesty, reliability and an excellent standard of workmanship.
Service
For a friendly, honest and reliable service make sure I am your first port of call, you won't be disappointed!

Call today for more information regarding my fantastic services.