About Us
Commercial Electrician in Buxton - About Us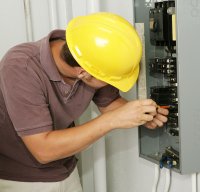 Consumer Units in Buxton
With over 10 years of experience in the industry, I am well placed to provide an exceptional electrical service that will leave you completely satisfied.

I only use the finest quality materials in all of my work, to ensure the highest standard is achieved every time.
During my time, I have gained an enviable reputation in the local area due to the diligent care and hard work I put into each and every job I undertake - so, to see why I am known as the premier electrician in Leek and Buxton, call today!
Contact Me
For more information, please call me on 07828 156120 or email me at rogerwhitaker@btopenworld.com, or by using the online query form.

I look forward to hearing from you!